Gluten Free Recipes
Mixed Berry Salad (GF, Heart Healthy, Low Lactose, Low Sugar)
What you need
1/2 cup strawberries1/3 cup red raspberries1/3 cup black raspberries or blackberries1 small honey crisp apple
What you do
Wash all berries and the apple. Hull strawberries and cut into 1/2 inch pieces. Core apple and cut into 1/2 inch pieces with the skin on. Mix all berries and apple together. Serve one cup mixed berry salad over plan non-fat yogurt, add sliced almonds.
Baked Zucchini with Pesto (GF, Heart Healthy, Lactose Free, SIBO Phase 2)
What you need
2-3 small to medium zucchini1/4-1/3 cup traditional basil pesto (or SIBO friendly version)
What you do
Pre-heat oven to 350Slice zucchini length wise 1/4 inch thick, lay on a baking sheet covered with parchment paper.Spread pesto evenly over the zucchini.Bake 20 minutes or until tender. Serve with grilled white fish.
Zucchini Ribbons (GF, Heart Healthy, Lactose Free, SIBO)
What you need
2 medium size zucchini sliced lengthwise with a vegetable peeler 1/2 red onion thinly sliced 2 tbs olive oil 1/2 bunch chopped chives 1 small sprig tarragon leaves removed and chopped 1/4 tsp red chili flake 1/4 cup grated Parmesan cheese S & P to taste
What you do
Sauté ghee, onion, chili pepper, taragon and zucchini over med high heat until wilted, turn off heat, top with cheese. Serve with braised meats or as a side dish to fish or chicken.
Blueberry Buttermilk Pancakes (GF, Low Lactose, Low Sugar)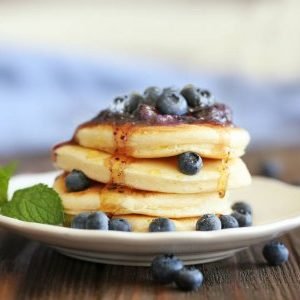 What you need
1/2 cup cassava flour 1/2 cup sorghum flour 1/3 cup arrowroot starch 1/2 Tbs gf baking powder (Hain brand) 1/2 tsp salt 1 Tbs sugar 1/4 cup dried buttermilk powder 2 Eggs 1/4 cup grape-seed oil + extra for griddle 3/4 cup water 1 tsp gf vanilla extract 1/2 cup blueberries fresh (optional)
What you do
Heat a griddle to medium/high heat Mix all dry ingredients, make a well inside dry ingredients adding wet ingredients and beat around before mixing all together. Spray griddle with non-stick cooking spray, pour about 1 1/2 tbs pancake batter per pancake. After pouring pancakes on griddle add 3-4 blueberries to the top flipping once. Serve with maple syrup lactose free whole milk yogurt or nut-butter for low sugar.
Basil Pesto (DF, GF, Heart Healthy, SIBO)
What you need
4 cups loosely packed basil 4 green onion tops (no whites) 2 Tbs nutritional yeast (optional for cheesy flavor) 1/2 cup toasted walnuts 2 Tbs lemon juice 3-4 tbs olive oil 1/2 - 1 tsp salt
What you do
Process altogether in food processor, except olive oil. Once everything is incorporated add oil slowly to create a runny paste. Serve over zucchini or carrot noodles or gluten free pasta.
Cucumber Smoked Salmon Boats (GF, Heart Healthy, Lactose Free, SIBO)
What you need
Persian cucumbers or english cucumbers sliced long ways, seeds removed with spoon to make a boat. slices of smoked salmon fresh or dried dillHorseradish mayo 1 tbs mayo to 1 tsp bubbies horseradish more if you like it hotter)
What you do
Make the cucumber boat, fill with horseradish mayo or sriracha mayo top with 2-3 slices smoked salmon ( I like the Wild Catch brand), sprinkle with fresh dill.
Cucumber Mint Smoothie (DF, GF, Heart Healthy, SIBO)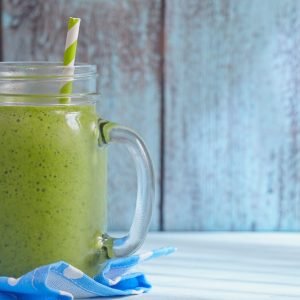 What you need
2 Kiwis - with skins 1/2 english cucumber - chopped handful of fresh mint 1 cup tigernut milk or almond milk 1 tbs extra virgin olive oil pinch of salt 1 cup ice
What you do
Add all ingredients to high powered blender, mix until very smooth- serves 2